Activity
For ethical public procurement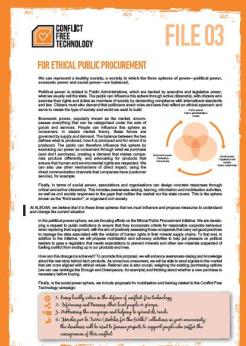 We can represent a healthy society, a society in which the three spheres of power—political power,
economic power and social power—are balanced.
In the political power sphere, we are focusing efforts on the Ethical Public Procurement Initiative. We are developing
a request to public institutions to ensure that they incorporate criteria for responsible corporate behaviour
when replacing their equipment, with the aim of positively assessing those companies that carry out good practices
to manage the risks associated with the violation of human rights in their mineral supply chains. To that end, in
addition to the initiative, we will propose mobilisation and advocacy activities to help put pressure on political
leaders to pass a regulation that meets expectations to prevent minerals and other raw materials suspected of
fuelling conflict from ending up in our products and lives.
Material necesario
Web de la campaña. Periódico de la campaña. Fichas de profundización de la campaña. Tarjetas con agentes y caracterización de estos.
Download material
03_EN_FOR ETHICAL PUBLIC PROCUREMENT.pdf