Unit
What your mobile hides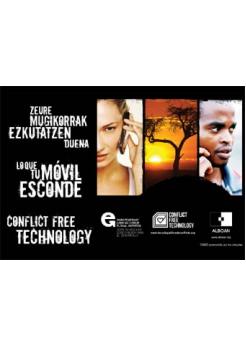 Conflict Free Technology is a campaign by ALBOAN that seeks to denounce the violation of Human Rights occurring in the Democratic Republic of Congo relating to the mining and illegal trade of minerals.
These minerals, vital for the manufacture of our mobile phones, computers and other technologies are mined in conditions of semi-slavery and their illegal trade helps finance armed groups, perpetuating the war in the region.
The pictures in this exhibition, granted by the photojournalist Iván Benitez, were taken at the Rubaya mine.
Characteristics:
Trilingual exhibition (English, Spanish and Basque)
32 dibond panels.
Sixe: 200 x 85 cm.
Interactive contents available through a mobile.