Activity
Is it possible to create a future horizon for refugees?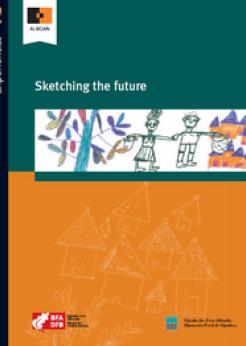 What countries in the world have a greater number of refugees? What is the difference between a refugee and a displaced person? What kind of injustices do refugees suffer? What type of needs do organizations working on behalf of refugees serve?
We start with a brainstorming card put on a Peters map in which we ask that you indicate:
* or what we know about refugees and displaced persons,
* or where are the refugees and displaced persons,
* or why have to take refuge,
* or what their concerns.
Then, split the cards 4.1. and 4.2 with data and testimonies of refugees. We ask the group to read individually and to explain which data would they add to the Peters map we have exposed.
We add the data to the Peters map and then by groups, ask them to work the following questions: Do you know people around us displaced from her home? Is he/she different to us? Which is the reason because he/she is in this situation? What can we do?
After sharing, we propose some slogans and posters to put in the room or in the classroom and to sensitize people on the situation and the treatment refugee and displaced persons deserve.
Material necesario
Cardboard.
Peters Map.
Card 4.1
Card 4.2
Download material
Activ 4.1.pdf Activ 4.2.pdf
Teaching material
Incluye versión en inglés