Activity
Horizons of past, present and future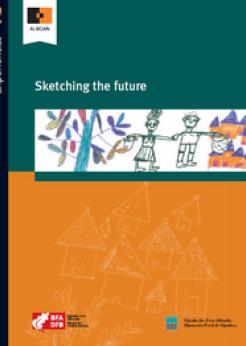 Have we thought how our lives have been, how it is now and what hopes do we have for the future? Have we ever thought how refugees feel about their past, present and future?.
We propose the group to make three pictures: one that expresses what life was like before, the second how it is now and the third how it will be when this stage of training is over. We ask them that in the drawings reflect people they relate to, actions they take, their moods, thoughts, concerns...
We present the drawings in the room or classroom, grouped by stages (past, present and future) and discuss together the issues that recur in all and those who do not, if we look forward to our future or not.
Then we present the testimonies and drawings in a field of refugees and displaced persons in Liberia (card 9.1, card 9.2, card 9.3). See if there are things we agree or not with these people and ask them to reflect on what we could do to change that future.
Material necesario
Card 9.1
Card 9.2
Card 9.3
Length
2 sessions, 50 minutes each
Download material
Activ 9.1.pdf Activ 9.2.pdf Activ 9.3.pdf
Teaching material
Incluye versión en inglés